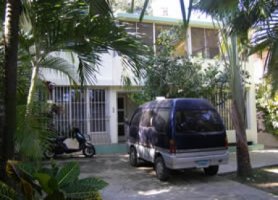 HRE 133 Haus
Location::
Sosúa
Lot Size::
416 m2 / 4476 sq. feet
Covered Area::
185 m2 / 1990 sq. feet
Bedroom::
4
Bathroom::
4
US$:
179,000.- US $
Furnished: fully
Private home in a quiet neighborhood right in Sosúa. The house includes four apartments which are ideal for rental purposes. The first floor consists of two 1-bedroom apartments, and the second floor also consists of two 1-bedroom apartments which can easily be turned into a 2-bedroom apartment and a studio apartment. The property includes a garden with beautiful tropical plants, as well as the possibility to park on the property itself, which also has a small workshop. This is an international neighborhood, and there are stores, restaurants, etc. nearby. Sosúa beach is only a 10-minute walk away.