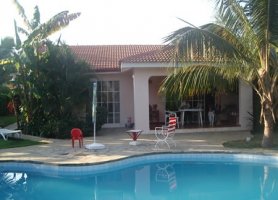 HRE 165 Villa Caoba
location::
Sosua / Cabarete
Covered Area::
136 m2 / 1463 sq. feet
Bedroom::
3
Bathroom::
2
US$:
185,000.- US $
THIS OFFER INCLUDES:

- Construction of the villa
- Kitchen including fixture and equipment
- Swimming pool and parking lot
- Landscaping and fully planted garden
- AC in bedrooms

Construction: To your own taste!

All house types can be visited, and we will be happy to consider your individual wishes when planning these beautiful and popular villas.
You will be able to choose from a large selection of tiles, bathroom equipment, colors as well as window and door designs.
Construction time is usually seven months for your turn-key villa.

Kitchen: Completely furnished!

The lovely breakfast bar will quickly convert your kitchen into the inviting center of your home.
The hanging and standing cabinets of massive pine wood offer sufficient space for all your kitchen utensils.
The refrigerator, stove and extractor hood are available in several colors and are part of the equipment.

Pool: The choice is yours!

You can select the pool of your choice from a variety of pool models.
The price package includes a pool with a surface area of 30 m2 / 322.80 square feet. The 30 m2 / 322.80 square feet of deck area around the pool is built with natural stones.

Garden: Nature at its best all around the house!

Our landscaped garden will surround your house with a tropical feeling. You will be able to enjoy the harvest from your own banana trees, coconut palms and lemon trees all year round, while evergreen plants will add delightful color to the garden.
Depending on the location of the base cost for house and garden in a closed and guarded facility is currently 35 to 55 U.S. $ per qm, and is not in the price of the villa and gardens included.