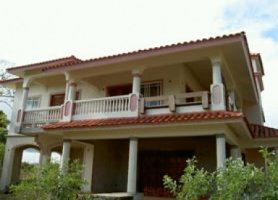 HRE 58 Villa
Location::
Sosúa
Lot Size::
850 m2 / 9146 sq. feet
Covered Area::
560 m2 / 6026 sq. feet
Bedroom::
3
Bathroom::
3
US$:
310,000.- US $
Furnished: fully
Ocean view villa in quiet location, only a short walk from a sandy beach. The creatively built upper floor, with its excellent choice of materials, is meant for residential purposes. The ground floor contains two 2-room apartments.