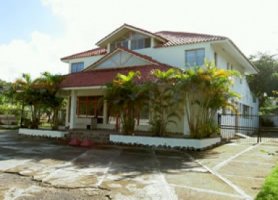 HRE 72 Haus
Location::
Sosúa
Lot Size::
1,047 m2 / 11,287 sq. feet
Covered Area::
500 m2 / 5390 sq. feet
Bedroom::
3
Bathroom::
2
US$:
160,000.- US $
Furnished: fully
Residential/commercial building located in a residential tourist area. The upper floor consists of a large living area with three bedrooms, two bathrooms and a big balcony. The commercial area on the ground floor consists of a large working area, a cold storage room, a sales area, a storeroom and a wash room. Parking space belonging to the property is located in front of the commercial area. The nearest supermarket is a 5-minute walk away and Sosúa beach can be reached in approx. a 15 minutes on foot.